Luisa Prandina (20th-25th July)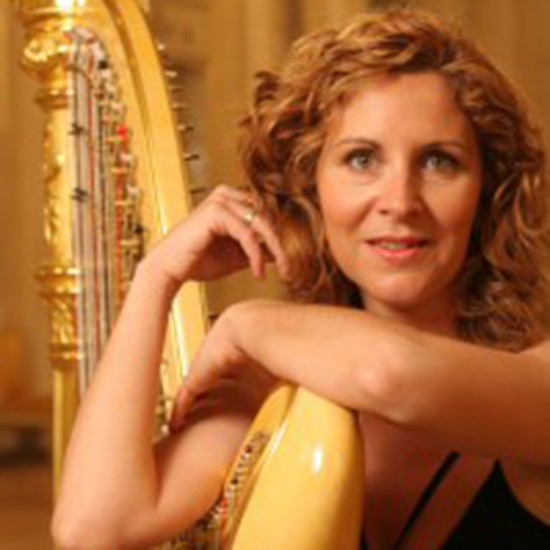 Luisa Prandina earned her diploma, with top marks, at the Milan Civic School of Music when she was not yet sixteen. At the age of ten she had already been awarded first prize at the 'Bellini' national competition in Como, for young instrumentalists, and went on to win various other Italian and international prizes. Since 1986 she has worked as first harpist with the European Community Youth Orchestra (ECYO), with Frankfurt Radio, and the Chamber Orchestra of Europe. She was 23 when she started playing at La Scala Theater, as the winner of an international competition for the post of first harpist.
In her intense concert career she has performed in chamber music groups, with renowned musicians such as Yuri Bashmet and Dora Schwarzberg, and as a soloist with famous orchestras like the Filarmonica della Scala, Solisti Veneti, Virtuosi di Mosca, and the Mahler Chamber Orchestra. Her talent has taken her into many familiar halls – La Scala Theater and the Sala Verdi at the Milan Conservatory, the Berlin Philharmonie, and the Wiesbaden Kurhaus, to name a few.

Irina Zingg (23rd-25th July)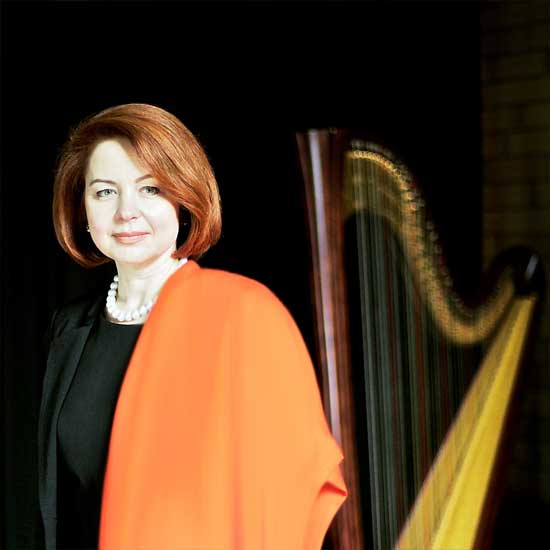 Enjoying today multi – faceted career as teacher, performer, publisher, Irina Zingg is the docent for harp at the Civica Scuola di Musica Claudio Abbado in Milan.
Born in Moscow, she holds degree with honors of Moscow State Tchaikovsky Conservatory, studied with Professors Milda Agazarian and Olga Erdely. Her performing career began in Moscow in the earlier 1990 as principal harpist with the International Harp Duo "Ailos Harp".
After the fall of the Soviet Walls, her career took an international emphasis: living in the Middle East, she premiered the new music, lectured for cultural foundations, founded school educational program "Harp and More, or initiated a highly acclaimed chamber music project "Hommage to Feiruz", exploring new dimensions of the harp in context of oriental music.
Engaging herself with the development of the harp today, Irina Zingg is the Founder & Artistic Director of the HarpMasters Academy & Festspiele, which serves today as an important link between generations of harpists. Today Irina engages to teach around the world at annual seminars: Porto Harp Week (Portugal), Maribor Harp Seminar (Slovenia), Seoul Harp Seminar (Korea). Ms. Zingg is the Professor-in- Residence at ISHA "HarpMasters" (Switzerland), she has given seminars and masterclasses at the Düsseldorf Hochschule der Kunste (Germany), Conservatorio di Musica di Torino, Conservatorio di Musica di Novara (Italy), Anderson University (USA), among others.
She research, ongoing, on the harp schools history, is the Correspondent for the World Harp Congress Review; her publications appeared in various harp periodicals: World Harp Congress Review, Harfe Heute, among others. Composers A. Ariefdien, G. McKenzie, S. Mezzadri dedicated their works to Irina Zingg. She has one solo and two chamber CD albums to her credits.
Irina Zingg regularly serve in jury panels of national and international competitions: USA International Harp Competition, International Harp Contest Suoni d' Arpa, Slovenia International Harp Competition, Mark Rubin Youth Harp Competition, she Chaired the jury panels of the 4 th Mexico International Harp Competition, 19 th Konjovic International Competition, 1 st Xenia Erdely International Harp Competition.
The course will be held by Irina Zingg concurrently with Luisa Prandina from 23th to 25th July.
Students can stay at the Hotels in Premeno at the special rate of 43 euro a day including breakfast and one meal or rent apartments to share, contact us for further informations.
- Hotel Moderno http://www.hotelmoderno.biz

- Hotel Vittoria http://www.hotelvittoriapremeno.it

- Hotel Villa Rosy http://www.hotelvillarosy.com

- Hotel Premeno http://www.premeno.com

- for further informations about apartments accademiavillabernocchi@gmail.com
Attendance fee 360,00 € (the cost will include the entire course with both teachers)


To apply the course please send 60,00 € (non refundable) in one of the following ways:
1) Bank Transfer payable to Pro Loco di Premeno, Banca Popolare di Intra, Sede di Intra, 
P.zza Aldo Moro 8, VB 28921, Intra, IBAN IT03 W 03069 22410 1000 0000 6333 causale "Contributo Accademia Musicale estiva 2018".
2) Postal Order payable to Pro Loco di Premeno, Via Marsaglia, Premeno, 28818 VB, 
made payable "Contributo Accademia Musicale estiva 2018".

The remaining part of the attendance fee will be paid the first day of the masterclass.
To subscribe send an email to this address:
accademiavillabernocchi@gmail.com
with the payment receipt and write:
- Subject: "HARP COURSE 2018"
- Name, Surname, pieces that you want to play