Registration deadline: 1st June 2019
Students can stay at the Hotels in Premeno at the special rate of 43 € a day including breakfast and one meal or rent apartments to share, contact us for further informations.
- Hotel Moderno http://www.hotelmoderno.biz

- Hotel Vittoria http://www.hotelvittoriapremeno.it

- Hotel Villa Rosy http://www.hotelvillarosy.com

- Hotel Premeno http://www.premeno.com


Email: accademiavillabernocchi@gmail.com
Mobile: +39 329 9536520
Attendance fee 260,00 €

To apply the course please send 40,00 € (non refundable) in one of the following ways:
1) Bank tansfer payable to Pro Loco di Premeno, Banca Popolare di Intra, Sede di Intra,
P.zza Aldo Moro 8, VB 28921, Intra, IBAN IT03 W 03069 22410 1000 0000 6333 causale "Contributo Accademia Musicale estiva 2019".
2) Postal Order payable to Pro Loco di Premeno, Via Marsaglia, Premeno, 28818 VB,
made payable "Contributo Accademia Musicale estiva 2019".

The remaining part of the attendance fee will be paid the first day of the masterclass.

To subscribe send an email to this address: accademiavillabernocchi@gmail.com
with the payment receipt and write:
- Subject: "VIOLIN COURSE 2019"
- Name, Surname, pieces that you want to play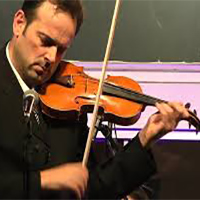 Francesco Borali was born in Milano (Italy). After graduating at the age of 18 from the "G.Verdi" Conservatory in his home town under Mrs. Luzzato's direction, he attended some post-graduated courses with the music masters Vegh, Gulli, and Brengola at the "Accademia Chigiana" in Siena (Italy). He also attended the course of "Virtuositè" at the Winterthuer Conservatory (Switzerland), under A. Piraccini Stuki's direction, and got the "Solisten Diplom" in 1992. Still very young, he was given significant scolarships in competitive examinations by the "G. Verdi" Conservatory in Milano and by the "Rassegna Nazionale di Vittorio Veneto". He distinguished himself by winning the first prize in several national and nternational competitions: "Città di Genova", "Premio F. Schubert" in Moncalieri (Italy), "Festival Internacional" in Murcia (Spain). He is carrying on an intense concert activity in duo and as a solist as well with various orchestras on the occasion of wel-known musical events in Italy and abroad. He became a member of the "Quartetto Guido Chigi" and did some recordings for different Italian and Swiss broadcasting and TV networks on CD. He played as a solist with the "Orchestra Sinfonica di Winterthur", the "Ensemble Giovanile Ambrosiano", the "Ensemble della Piccola di Londra", the "Orchestra della Gioventù musicale in Vicenza", the "Orchestra da Camera di Ferrara" l'orchestra g.Verdi di Milano performing the Concerts by Kachaturian Mendelsshon, Petrassi, Vivaldi, Mozart.Paganini etc… As a solist and in an orchestra he carried out a concert activity in different places like Prague, Budapest, London, Winterthur, Madrid, Barcellona, Paris, Roma, Firenze, Messina.Australia ,sud america. He cooperated as "Primo Violino di Spalla"with the Orchestra da Camera Stradivari (from 1986 to 1990) conducted by M.Gatti with th "Pomeriggi Musicali", the RAI Orchestra (Milano, Italy), the "Piccola Sinfonica" of Milano, the Simphony Orchestra G. Verdi of Milano (from 1994 to 1999) and the "Orchestra Filarmonica Marchigiana" (2000). He has been "primo violino di spalla" of the "teatro S Carlo di Lisbona" He played with very famous conductors like: Chailly, Muti, Bertini, Gatti, Prètre, Giulini, Renzetti,Yutaka Sado, Sawalish . He has been a member of I SOLISTI VENETI from 2000 to 2010,recording and performing from giappone to australia and america. At the moment he plays at "Filarmonica della Scala" in Milano. He is gradued in condacting at " Accademia Internazionale di m,m.- Pescara" He is a teacher of violin at Accademia internazionale della musica" in Milano since 1989.